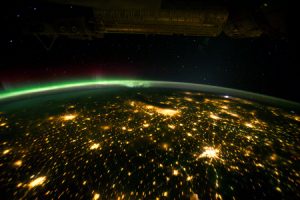 Today is the 160th anniver­sary of Niko­la Tesla's birth. Tes­la was a seer of elec­tric­i­ty, whose vision of a world trans­formed with an elec­tric grid pow­ered by his alter­nat­ing cur­rent sys­tem sure­ly seemed like a wild dream in the late 19th cen­tu­ry. Tes­la is claimed as a hero in both Ser­bia and Croa­t­ia, hav­ing been born and raised Ser­bian in what's now Croatia—a trea­sured icon, kind of a cross between Albert Ein­stein and Abra­ham Lin­coln.
Exact­ly ten years ago, I was in Bel­grade for the pre­miere of Vio­let Fire, the opera about Tes­la that I worked on as libret­tist with com­pos­er Jon Gib­son, along with many oth­er huge­ly tal­ent­ed artists and per­form­ers. Our opera had been invit­ed there as part of a cel­e­bra­tion of Tesla's 150th birth­day. In fact, Vio­let Fire's open­ing night fell on Tesla's birth­day, July 9 (he's pop­u­lar­ly sup­posed been born on mid­night between July 9 and 10).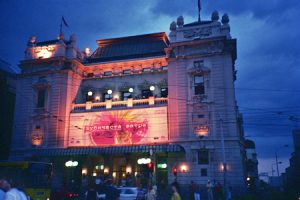 My week in Bel­grade was won­der­ful, nerve-wracking—as the­ater can be—and sur­re­al. The first per­for­mance went well. The next night, many of us went to see anoth­er per­for­mance in the Bel­grade sum­mer arts fes­ti­val (BELEF)—this one by Lau­rie Ander­son, the avant-garde musician/artist who counts Tes­la as an inspi­ra­tion. After the per­for­mance I got pulled back­stage to meet Ms. Ander­son, and told her how much I've been inspired by her work.
I found myself in a dim bar-like room, with Lau­rie Ander­son and Niko­la Tesla—well, a per­for­mance artist dressed in Tesla's dis­tinc­tive for­mal attire, who had made appear­ances in var­i­ous loca­tions in down­town Bel­grade that day. Sev­er­al Croa­t­ians were there, includ­ing a tall young woman who was an aspir­ing filmmaker—and an actu­al descen­dant of Tes­la. The group of us left the the­ater, led by the festival's direc­tor through the balmy sum­mer night to the open plaza of Repub­lic Square.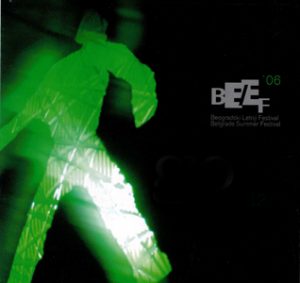 There under the stars, across from the Nation­al The­ater where our opera was still run­ning, we joined a crowd of peo­ple in and around a strange loom­ing structure—an ad-hoc build­ing glow­ing blue from inside. This was Clus­ter, its mak­er explained to me—a par­tic­i­pa­to­ry soft­ware project, hous­ing mul­ti­ple com­put­ers and shar­ing freely with all vis­i­tors. It was an inspired trib­ute to Tes­la, who had envi­sioned shar­ing the fruits of his work freely with the world.
I felt like I had wan­dered inside a dream—walking with Tesla's ghost, his great-grand niece and Lau­rie Ander­son down dark streets to dis­cov­er a puls­ing blue thought-clus­ter. And this feel­ing, I'm real­iz­ing now, is some­thing like what I strug­gle to describe about Tes­la and his lega­cy. Our increas­ing­ly wire­less world, with its lit-up nights, its vir­tu­al­ly free stream­ing data, its elec­tric cars, is an embod­i­ment of Tesla's visions for the future. We are liv­ing inside his dream.
Tes­la also imag­ined the future as a peace­ful place where war would be obso­lete, where women would be equal to men, and we'd all be knit­ted togeth­er in a hive of pro­duc­tive work. Right now this all seems very far away from the intractable prob­lems, suf­fer­ing and dis­cord that still sur­round us. Some­day, maybe, more of Tesla's dream will become real­i­ty.
More about Vio­let Fire: www.violetfireopera.com