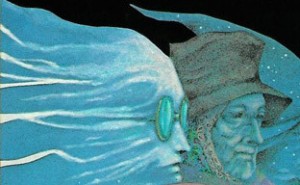 I was in sixth grade when I was swept up in the world of A Wrin­kle in Time, part of the first gen­er­a­tion of girls to dis­cov­er it. Madeleine L'Engle's nov­el imprint­ed itself on my imag­i­na­tion and gave me a sense of what spec­u­la­tive fic­tion could be, before I had read much sci­ence fic­tion. Its tin­gling sense of pos­si­bil­i­ty, and its fear­less leap­ing into deep ter­ri­to­ry stayed with me, as I lat­er found and read oth­er pio­neer­ing authors like Ursu­la LeGuin and Octavia But­ler.
What makes A Wrin­kle in Time such a touch­stone, a kind of pole star that has helped many read­ers, and par­tic­u­lar­ly girls and young women begin nav­i­gat­ing their sense of them­selves in the cos­mos? Many peo­ple have writ­ten about the pow­er of encoun­ter­ing the anti-cheer­leader Meg—a twelve-year-old girl who excels at math and science—not to men­tion Meg's moth­er, Mrs. Mur­ry, who is both a work­ing sci­en­tist and a lov­ing, under­stand­ing par­ent.
But it's not just these two strong female char­ac­ters that made this book dif­fer­ent. L'Engle pulled off some­thing wild­ly, rad­i­cal­ly orig­i­nal, mark­ing her own path into a field that is still male-dom­i­nat­ed. The title sly­ly announces its dif­fer­ence: it's a "wrin­kle" in time, not some grand, adven­tur­ous noun (Trek, any­one?), but a hum­ble, domes­tic thing that nor­mal­ly reminds us of fabric—the tan­gi­ble women's work of sewing and iron­ing. Yet this image ani­mates the Tesser­act con­cept that allows Meg and oth­ers to leapfrog through space and time on their quest to find her sci­en­tist father. Like­wise, the sto­ry roots itself in the creaky details of Meg's shab­by but wel­com­ing old house before launch­ing into its play­ful explo­ration of dif­fer­ent plan­ets and ways of being, all with­out recourse to any of the shiny, tech-heavy details that char­ac­ter­ize hard sci­ence fic­tion.
That's not all. L'Engle, who knew her world mytholo­gies, offers three char­ac­ters who are intro­duced as witches—one of them is even named Mrs Which. But these witch­es are thor­ough­ly de-demo­nized. No shrill Queens of the Night or inter­change­able Weird Sis­ters here; these are three old-lady pals who gen­uine­ly like each oth­er, each with her own dis­tinct per­son­al­i­ty. They are in fact men­tors and helpers to Meg and her com­pan­ions, and even as they shape-shift, shed­ding their gen­der to reveal more cos­mic iden­ti­ties, they retain their pro­found­ly good inten­tions.
And then there are the inhab­i­tants of the plan­et Ixchel, where Meg is tak­en to recov­er from the near-death trau­ma of Tesser­ing through the Black Thing. These huge furred crea­tures under­stand the world com­plete­ly through sen­si­tive ten­ta­cles, and com­mu­ni­cate with­out words. Instead of night­mar­ish, Alien-like insec­toids like those encoun­tered in Star­ship Troop­ers and Ender's Game, we're giv­en many-limbed beings with the envelop­ing tac­tile and emo­tion­al ambi­ence of the moth­er-infant bond, as Meg is regressed and re-raised by an indi­vid­ual she names "Aunt Beast."
No won­der pub­lish­ers didn't know what to do with L'Engle's man­u­script at first. The human char­ac­ters (Meg and her mom) and the super­nat­ur­al char­ac­ters broke the gen­der bar­ri­ers of their time. Two arche­typ­al extremes are embod­ied as female: the celes­tial, sky-fly­ing, far-see­ing witch­es, and the feel­ing­ful, earth-con­nect­ed species of Ixchel (the plan­et was named for the Mayan god­dess of heal­ing and child­birth). And there are no man-eat­ing mon­sters among them. If A Wrin­kle in Time has giv­en boys some­thing new to chew on in these recast arche­types, that's great. On behalf of stargaz­ing girls every­where, I'm grate­ful to Madeleine L'Engle for let­ting her imag­i­na­tion fly.