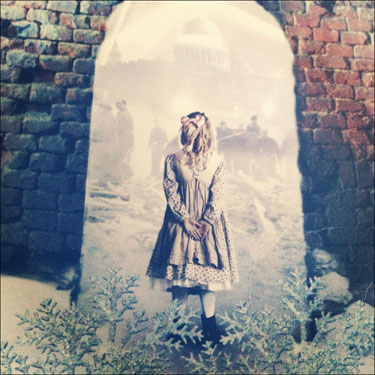 Kate Atkin­son has now won the Cos­ta Book Award twice in the past three years—for her com­pan­ion nov­els, A God in Ruins (2015) and the stun­ning Life After Life (2013). To cel­e­brate, here are my thoughts on the first one, which I just fin­ished.
Life after Life can be seen as a kind of thought exper­i­ment: what if a life, when cut off by ear­ly death, could be lived again, and again and again? Would any­thing change, and would the per­son who lives it learn any­thing from her pre­vi­ous expe­ri­ences?
This is what hap­pens to Ursu­la Todd, who is born, and then born again, and again, on a snowy night in Eng­land in 1910. She arrives still­born the first time, but we fol­low her as she dogged­ly relives her own life, which grad­u­al­ly extends in length until she lives as far as the Lon­don Blitz and, once or twice, into post­war peace­time and pover­ty. A dia­gram of the book's struc­ture would look very dif­fer­ent from most nov­els: more like a tree, with sev­er­al of Ursula's ear­ly lives cut off by acci­dent and ill­ness (in the ter­ri­ble influen­za epi­dem­ic of 1918) at the trunk, and then longer branch­es devel­op­ing as Ursu­la moves into adulthood—some sub­tly altered, and oth­ers veer­ing off in stark­ly dif­fer­ent direc­tions.
Some moments act as pres­sure points. One, a lazy sum­mer after­noon in the yard of her large family's com­fort­able home out­side Lon­don, con­tains the seeds of events that fuel mul­ti­ple diver­gences. Oth­er moments feel like twigs rather then branches—possibilities for rela­tion­ships that nev­er come to fruition. In most of Ursula's lives, she remains sin­gle, and only in one life does she have a child.
If this were a work of sci­ence fic­tion, we would expect the author to open her hand and explain, or at least sug­gest, how all this works. Is Ursu­la the only one who has, or is cursed with, this abil­i­ty to relive her own life? Or are oth­er peo­ple branch­ing away into par­al­lel lives as well? From one life to the next, Ursu­la feels inti­ma­tions and omens from her ear­li­er expe­ri­ences, which can move her to act dif­fer­ent­ly, avert­ing the pre­vi­ous out­come. If she isn't the only one this is hap­pen­ing to, is she the only one with the sen­si­tiv­i­ty to break through the mem­brane of death and ben­e­fit from her expe­ri­ences?
Atkin­son has lit­tle inter­est in spelling out her premise; the clos­est she comes is an allu­sion to rein­car­na­tion, in con­ver­sa­tions a young Ursu­la has with her psy­chi­a­trist, to whom she is sent after a trou­bling inci­dent ris­ing from one of her trace mem­o­ries. Of course, Ursula's expe­ri­ence is dif­fer­ent from the tra­di­tion­al under­stand­ing of rein­car­na­tion as the ser­i­al inhab­it­ing of dif­fer­ent lives over time.
But her sit­u­a­tion offers a vivid illus­tra­tion of one aspect of the Many Worlds Inter­pre­ta­tion of quan­tum physics—what's known as a Lev­el 3 par­al­lel uni­verse, in which, at every moment, a person's choic­es give rise to oth­er prob­a­ble uni­vers­es, each slight­ly dif­fer­ent. The the­o­ry doesn't allow for com­mu­ni­ca­tion among these uni­vers­es, but that hasn't stopped many sci­ence fic­tion writ­ers from imag­in­ing it hap­pen­ing. Atkinson's branch­ing struc­ture also sug­gests video game pro­gres­sions, as well as, maybe, a hyper­text sto­ry. I don't think Atkin­son meant the nov­el to be any of those things, but it brought up these ques­tions for me as strong­ly as any sci­ence fic­tion nar­ra­tive.
What she does offer, as the mag­nif­i­cent writer she is, is a deeply inti­mate, rich­ly nov­el­is­tic sense of a per­son liv­ing her life, and the peo­ple and events that sur­round her. For me, the rep­e­ti­tions and vari­a­tions through Ursula's many lives had the effect of inten­si­fy­ing the sense of being inside this character's skin, as well as that sense of read­er­ly poignan­cy when rec­og­niz­ing the return of a char­ac­ter or place, just slight­ly shift­ed.
When Ursu­la lives through sev­er­al hor­ri­fy­ing vari­ants of the Blitz, it becomes more pow­er­ful for me, not numb­ing­ly repet­i­tive. If a nov­el is a way of inti­mate­ly know­ing a per­son or a cul­tur­al point in time, then the refrac­tion of Ursula's expe­ri­ences among her dif­fer­ent lives gives a height­ened, more-dimen­sion­al sense of her and her time—a kind of tur­bo-pow­ered lit­er­ary por­trait.
I won­dered at one point if this nov­el might crys­tal­lize a new genre: of alter­nate lives, as opposed to alter­nate his­to­ries like Philip K. Dick's The Man in the High Cas­tle. (Life After Life does ven­ture a lit­tle into alter­nate his­to­ry too.) If there are any more books like this, I'd like to know. On the oth­er hand, I can't imag­ine any­one doing it with more breath­tak­ing inten­si­ty than Kate Atkin­son has here.