Maria Popo­va has writ­ten on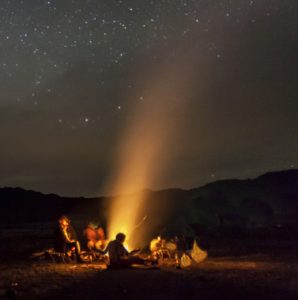 her won­der­ful web­site Brain Pick­ings about Ursu­la K. Le Guin's essay on the nature of speech, "Telling is Lis­ten­ing." This brought back to me the sense of how much Le Guin—a mas­ter sto­ry­teller herself—has made the impor­tance of sto­ry­telling a cen­tral theme in many of her nov­els and sto­ries.
In the essay, from her col­lec­tion The Wave in the Mind, Le Guin argues that human com­mu­ni­ca­tion is not some mech­a­nis­tic process, involv­ing the trans­mis­sion of data bits from one brain to anoth­er, but is a com­plex and mutu­al­ly cre­at­ed event. The mes­sage, she says, can't be sep­a­rat­ed from "the rela­tion­ship between speak­er and hear­er." Lan­guage itself is social. In an image recall­ing the pri­mal expe­ri­ence of lis­ten­ing to the sto­ry­teller around a fire, she says, "The voice cre­ates a sphere around it, which includes all its hear­ers."
That very human expe­ri­ence appears again and again in Le Guin's work, where she has med­i­tat­ed on its sig­nif­i­cance in dif­fer­ent ways. In The Telling, one of her Hain­ish cycle nov­els, an ancient cul­ture has been kept alive by the spo­ken shar­ing of its his­to­ry, myths and poet­ry, while its sacred texts are hid­den away from the author­i­tar­i­an regime that now rules the plan­et. Then, even this con­nec­tion is threat­ened when the author­i­ties out­law any gath­er­ings to hear The Telling, as it's called. Le Guin's young-adult fan­ta­sy tril­o­gy Annals of the West­ern Shore begins with Erroc, a boy who rejects his inher­it­ed gift for "undo­ing," only to even­tu­al­ly find his call­ing as a pow­er­ful sto­ry­teller. In Voic­es, the sec­ond book in the series, Erroc helps the mem­bers of a peo­ple whose tra­di­tion of learn­ing and lit­er­a­ture is under attack by a fun­da­men­tal­ist group.
These books tell us that sto­ries, spo­ken or writ­ten, are not just infor­ma­tion, but the medi­um that weaves a cul­ture into existence—in the same way that speech, for Le Guin, is the medi­um of a shared under­stand­ing. But in one short sto­ry of Le Guin's that has stayed with me, and that Popo­va remind­ed me of, the pow­er of sto­ry­telling goes even beyond this.
"The Shobies' Sto­ry" is anoth­er Hain­ish cycle sto­ry, from Le Guin's A Fish­er­man of the Inland Sea. The crew of the Sho­by, an inter­galac­tic space­ship, embark on the first voy­age with a new faster-than-light propul­sion sys­tem that will involve a human crew. No one knows what to expect, and one crew member's attempts to explain the new sys­tem make it sound more meta­phys­i­cal than mechan­i­cal: "'It is not phys­i­cal, and it is not not phys­i­cal,'" he tries. "'So the ship will be moved,'" anoth­er asks, "'by ideas?'"
The trip is instan­ta­neous. But where exact­ly they've arrived is not clear; and, more fright­en­ing than that, every­one, from the old nav­i­ga­tor to the chil­dren, seems to be hav­ing a dif­fer­ent experience—they can't even agree on what is hap­pen­ing. Some­thing in the trip has frac­tured their shared real­i­ty, and dif­fer­ent prob­a­ble events jos­tle with each oth­er, all equal in weight. In a lat­er sto­ry, a char­ac­ter calls it "'the chaos expe­ri­ence.'" It's only when they all sit down at the hearth in their liv­ing quar­ters (yes, this ship has a fire­place) and start to tell a com­mu­nal sto­ry of their jour­ney, that space and time begin to knit back togeth­er into a nar­ra­tive they can agree on.
Wow. "The Shobies' Sto­ry" seems to sug­gest that we need the mutu­al cre­ation of sto­ries not just to share cul­tur­al knowl­edge, but even to cre­ate the per­ceived uni­verse that we all agree on. With­out the human shar­ing of speech and sto­ry, that under­stand­ing breaks down, and we're lost in our indi­vid­ual dream worlds. This sto­ry may offer a mir­ror of Le Guin's clas­sic nov­el The Lathe of Heav­en, a night­mare sce­nario in which one man's dreams actu­al­ly change the world he wakes back up to. But in the Sho­by crew's des­per­ate and hum­ble reen­act­ment of an ancient tra­di­tion, Le Guin seems to sug­gest that the shared expe­ri­ence of telling, in some fun­da­men­tal way, has the pow­er to make, and remake, our world.