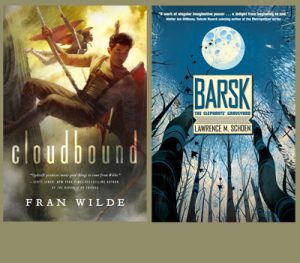 I'm excit­ed to be part of All But True's next author event, "Oth­er Times, Oth­er Worlds," with two award-win­ning sci­ence fic­tion authors: Fran Wilde and Lawrence M. Schoen. It's com­ing up on Novem­ber 11—our sec­ond time at Mighty Writ­ers West, and our first time focus­ing on spec­u­la­tive fic­tion. Here are my thoughts on the nov­els Fran and Lawrence will be read­ing from, dis­cussing, and sign­ing.
Lawrence M. Schoen's 2015 nov­el Barsk: The Ele­phants' Grave­yard won the Cóy­otl Award for excel­lence in anthro­po­mor­phic fic­tion, and it's easy to see why. It describes a far future peo­pled by sapi­ent descen­dants of ele­phants and oth­er mam­mals, "upraised" by humans in the dis­tant past, with the humans now long gone. The Eleph and Fant live in exile from the rest of the inter­plan­e­tary Alliance, on the rain­for­est plan­et Barsk.
What I love most about this book is how Schoen extrap­o­lates his human­ized pachy­derms from our own knowl­edge and appre­ci­a­tion of this endan­gered species. Fant soci­ety is matri­ar­chal, with the more nomadic males mov­ing in and out of the set­tled, female-cen­tric com­mu­ni­ties. Adher­ing to the leg­end of the ele­phants' grave­yard, they know the time and place of their death. And they are keep­ers of mem­o­ry and his­to­ry, both for them­selves and oth­er species in the Alliance.
The Fants' abil­i­ty to speak with the dead, aid­ed by the psy­choac­tive drug Koph, is a nat­ur­al and intrigu­ing out­growth of their strong attune­ment to the past—and becomes a cen­tral ele­ment of the sto­ry. Barsk builds through widen­ing tiers of rev­e­la­tions, and by the end you'll learn why and how the Fant became the out­casts of the Alliance, reviled by the fur­ry dogs, otters, bears and oth­er sapi­ent ani­mals in spite of their cru­cial role as the sole sup­pli­ers of Koph.
Cloud­bound is the sec­ond book in Fran Wilde's Bone Uni­verse Series. Updraft, the first book, won Wilde both the Comp­ton Crook award for best first sci­ence fiction/fantasy nov­el and the Andre Nor­ton Award for out­stand­ing young adult sci­ence fiction/fantasy. Updraft intro­duced a world where peo­ple fly on silk wings between liv­ing bone tow­ers, and fol­lowed Kir­it Densira's dis­cov­ery of her des­tiny as a Singer, along with the machi­na­tions of the secre­tive Spire.
Cloud­bound picks up after the Spire's pow­er has been bro­ken, and shifts to the expe­ri­ence of Kirit's tow­er-mate Nat. With Kir­it and a small band of out­casts, he flees the con­flict-rid­den City, trav­el­ing down into the clouds in search of long-hid­den secrets. This book has a more com­mu­nal dynam­ic than the first, and deliv­ers the kind of deep­en­ing com­plex­i­ty that's required of a sec­ond install­ment. Nat's under­stand­ing of lead­er­ship is test­ed against unex­pect­ed betray­als and mis­use of pow­er by those around him. Cloud­bound is as grip­ping as the first book, and as breath­tak­ing in its devel­op­ment of this vivid and dan­ger­ous world.
All But True, a free author read­ing series host­ed by the Work­ing Writ­ers Group
Oth­er Times, Oth­er Worlds—an evening of spec­u­la­tive fic­tion, with Lawrence M. Schoen and Fran Wilde
Fri­day, Novem­ber 11 at Mighty Writ­ers West
3861 Lan­cast­er Avenue, Philadel­phia, PA 19104 215–244-4005