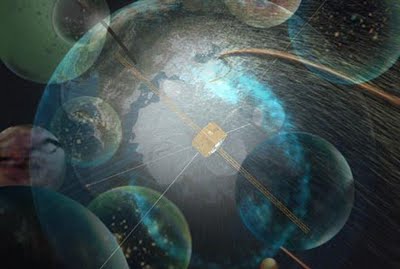 Are we liv­ing in an alter­nate branch of his­to­ry? I've been ask­ing myself that ques­tion since wak­ing up the morn­ing of Novem­ber 9, with the feel­ing that real­i­ty had turned side­ways. Since then, many of us have shared the stages of shock, denial, anger and sad­ness that come after a great loss. But when so many peo­ple share these feel­ings at the same time, that sense of things being pro­found­ly wrenched out of place, of being exiled from the world you know, takes on a dif­fer­ent weight.
Elec­tions can be turn­ing points. Mil­lions of peo­ple weighed in on the country's direction—leaving aside the issues of how their opin­ions were influenced—and this time the jok­er came out on top, con­found­ing the expec­ta­tions of many. A shift hap­pened, which we're just begin­ning to live through, and which has the pow­er to affect the world. Try­ing to make sense of this, I keep com­ing back to the imag­i­na­tive prece­dents offered by alter­nate his­to­ry.
The impulse to imag­ine alter­nate his­to­ries has long roots. Two thou­sand years ago, the Roman his­to­ri­an Livy spec­u­lat­ed on whether Alexan­der the Great could have defeat­ed Rome. Mod­ern alter­nate his­to­ry emerged along with sci­ence fiction—in L. Sprague de Camp's 1939 clas­sic Lest Dark­ness Fall, an arche­ol­o­gist finds him­self thrown back in time to a slight­ly dif­fer­ent Rome in the sixth cen­tu­ry CE, where he man­ages to insert enough tech­nol­o­gy and knowl­edge to pre­vent the com­ing of the Dark Ages.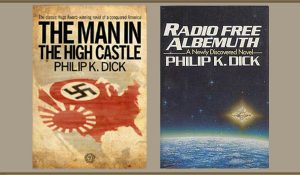 The imag­i­na­tion of dark­er alter­nate timelines—with the Nazis and oth­er Axis pow­ers win­ning World War II, for example—has become an endur­ing strand in the genre. There's Philip K. Dick's The Man in the High Cas­tle, which takes place in a post-war Amer­i­ca carved up into pro­tec­torates of the Nazis and the Japan­ese. Jo Walton's Small Change tril­o­gy plays out a time­line in which Britain has become a fas­cist dic­ta­tor­ship fol­low­ing a peace made with Nazi Ger­many, thanks to the influ­ence of the appease­ment fac­tion and Amer­i­can iso­la­tion­ism. Simon Zelitch's Juden­staat offers anoth­er pos­si­ble World War II out­come, with a Jew­ish state aris­ing not in Pales­tine but in the area that for us became part of East Ger­many, and falling inside the oppres­sive polit­i­cal orbit of the USSR.
Then there are nov­els that give us a vision of a home­grown Fas­cism tak­ing pow­er in the Unit­ed States. Philip Roth's The Plot Against Amer­i­ca traces an alter­nate his­tor­i­cal path in the 1930s, fol­low­ing the elec­tion of Charles Lind­bergh as Pres­i­dent (in our time, he was a Nazi sym­pa­thiz­er). This leads to state-spon­sored anti-Semi­tism that includes a Jew­ish relo­ca­tion pro­gram. Sin­clair Lewis's It Can't Hap­pen Here fol­lows a Huey Long-like dem­a­gogue who, soon after his elec­tion to the pres­i­den­cy, uses mil­i­tary force to estab­lish a total­i­tar­i­an state. Tech­ni­cal­ly It Can't Hap­pen Here may not qual­i­fy as alter­nate his­to­ry, since Lewis was writ­ing in 1935 about an upcom­ing elec­tion, not about a diver­gent event in the past. [LINK] http://www.uchronia.net/intro.html
I've seen many of these nov­els cit­ed as par­al­lels to the moment we find our­selves in now. But I haven't heard any­one bring up a more obscure nov­el by Philip K. Dick, Radio Free Albe­muth, which was posthu­mous­ly pub­lished in 1985. Dick also adapt­ed the plot as a sto­ry-with­in-a-sto­ry, appear­ing as a film watched by the char­ac­ters in his great late work, VALIS.
Set in the late 1960s, Radio Free Albe­muth hinges on the elec­tion of Fer­ris F. Fre­mont, a cor­rupt politi­cian asso­ci­at­ed with a right-wing pop­ulist move­ment. As it turns out, Fre­mont is also a covert Russ­ian agent. Fre­mont was part­ly inspired by Richard Nixon, whose appeal to "Mid­dle Amer­i­ca" nom­i­nal­ly qual­i­fied him as a pop­ulist. But as a par­al­lel to our Pres­i­dent Elect, Dick's Fre­mont hits the tri­fec­ta: cor­rupt deal­ings, right-wing pop­ulism, and Russ­ian influ­ence.
It was Dick's swirling mix of para­noia and real­i­ty-con­fu­sion that I thought of the morn­ing after the elec­tion. The Man in the High Cas­tle, for exam­ple, sets up not just one alter­nate strand but sev­er­al: there's a book-with­in-a-book by an author who imag­ines a dif­fer­ent end­ing to the war, with the U.S. and Britain becom­ing the post­war super­pow­ers, and this serves to sab­o­tage the novel's dom­i­nant real­i­ty. (John Gray delves into this aspect of the nov­el in an insight­ful piece com­par­ing it to the cur­rent TV adaptation.)LINK BELOW
Philip K. Dick is not the author I would pre­fer to choose as the prophet of our com­ing polit­i­cal time. But the creep­ing ambi­gu­i­ty of his fic­tion­al mul­ti­vers­es feel like a match for the fear and uncer­tain­ty per­vad­ing the world we find our­selves in now.