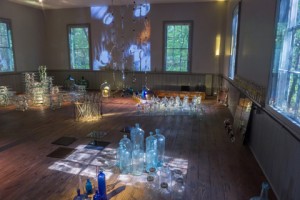 Carolyn Healy and John Phillips have done it again: they've created an art installation piece that both transforms the space it's housed in, and crystallizes some essence of the place.
This time they did it inside a one-room schoolhouse on the grounds of WheatonArts in Millville, New Jersey, a nationally known center for glass art. Their piece is part of Emanations: Art + Process, an ambitious exhibit bringing in eleven invited artists—some of them experienced glass artists, and others, like Phillips and Healy, who would encounter Wheaton's impressive glassmaking studio for the first time.
The inside of the schoolhouse has become a kind of snow globe, documenting the history of glassmaking at Wheaton, once the epicenter of the American glass industry. The open room is filled with glass objects that Healy unearthed from the back rooms and storage bins of WheatonArts, from big bell jars and old pharmacy bottles to bear-shaped honey bottles. Light-filtering film on the windows, along with a few spotlights, makes for a singular atmosphere filled with odd sparkles and flashes, and reflections that seem to hover in midair. Suggestive videos on the wall and sound elements by Phillips, seemingly exploring the inner qualities of glass, somehow complete the transformation of the space into "a semi-transparent vessel itself, a crucible for contemplation," as I wrote in the essay for a catalog to accompany the exhibit.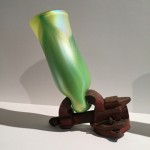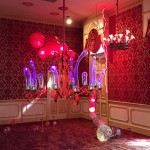 Most of the Emanations exhibit can be seen in the Museum of American Glass, and includes such standouts as Judy Pfaff's exuberant and gaudy fantasia on a theme of chandeliers; Donald Lipski's mischief-making interventions into lovely glass objects; Virgil Marti's dizzying faux-collection of exquisitely hued vases; and the surreal "barnyard animal" forms of Paula Hayes.
Discovering this adventurous show at Wheaton, set in a shady pine grove on the sandy soil that made the glass industry possible, is like finding the sparkling innards of a geode. If you go, don't forget to walk down the path to the little schoolhouse with the extraordinary interior, courtesy of Phillips and Healy.
EMANATIONS: ART + PROCESS     Artists include Mark Dion, Paula Hayes, Carolyn Healy and John Phillips, Donald Lipski, Virgil Marti, Michael Oatman, Judy Pfaff, Jocelyne Prince, Rob Wynn and Mark Zirpel
Through January 4, 2016 at WheatonArts, Millville NJ             www.wheatonarts.org
Free admission on Wheaton Wide Open Weekends: September 11-13, October 23-25, November 6-8, and thru January 2016