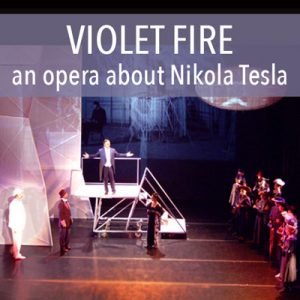 Vio­let Fire, the opera about Niko­la Tes­la that I worked on as libret­tist with com­pos­er Jon Gib­son, is final­ly get­ting a stu­dio record­ing! It's a lit­tle late—the world pre­miere and U.S. pre­miere hap­pened in Bel­grade and New York in 2006—but I'm still excit­ed. Last week, Jon con­vened a stel­lar group of musi­cians at a record­ing stu­dio in Brook­lyn to lay down tracks for the record­ing.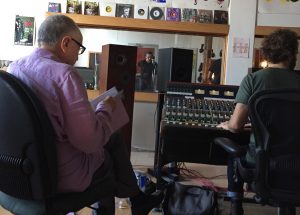 I was able to sit in one day as the solo singers record­ed their parts. They includ­ed Scott Mur­phree, who played our orig­i­nal Tes­la; Peter Stew­art, our orig­i­nal Mark Twain; Solange Mer­din­ian, as Tesla's friend Katharine John­son; Gre­go­ry Purn­hagen, as the Reporter; and Marie Mas­cari as the White Dove. The great Mick Rossi led the record­ing as music direc­tor and con­duc­tor.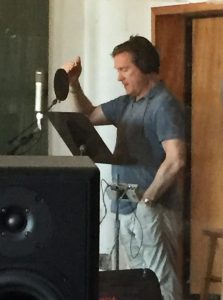 Each char­ac­ter in the opera is there to show a dif­fer­ent facet of Tesla's life, from the most inti­mate to the most pub­lic. Mark Twain, who sensed the mag­ni­tude of the inventor's break­throughs in alter­nat­ing cur­rent and wire­less trans­mis­sion, sings in praise of his accom­plish­ments and glob­al influ­ence, while the Reporter offers com­men­tary on Tesla's wax­ing and then wan­ing fame. Katharine John­son sings plain­tive­ly to her "dear and silent friend" who, devot­ed to his work, seems to have "no human needs." Mar­ried to the writer and edi­tor Robert John­son, Katharine host­ed Tes­la at many din­ner par­ties. Her elo­quent­ly emo­tion­al let­ters to him reveal a deep but one-sided attach­ment to the inven­tor.
The real Mar­garet Storm wrote a book, The White Dove, that gave the opera its name: in it, she described Tes­la as "Prince of the Vio­let Fire," and told of his being born on Venus and then trans­port­ed to Earth to offer his oth­er­world­ly knowl­edge to human­i­ty. And the char­ac­ter of the White Dove is inspired by a pigeon that Tes­la, late in life, admit­ted to lov­ing and car­ing for in the parks of New York. The opera took form around the sense that this bird should be allowed to sing.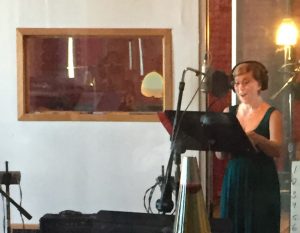 It was won­der­ful to hear Jon's music brought to life again by these great singers and musi­cians. In the sin­u­ous melod­ic lines and slid­ing chords, I hear the sad­ness woven in with Tesla—not just from his self-imposed human iso­la­tion. When Scott Mur­phree, as Tes­la, sang the line "An end to suf­fer­ing…," it car­ried both Tesla's grand, glob­al-scale ambi­tions, and also the fail­ure to achieve them that would inevitably fol­low. Then there's this line sung by the Reporter, tak­en near-ver­ba­tim from a poignant head­line in the New York World: "At night and in secret, Niko­la Tes­la lav­ish­es his love on pigeons." Great explo­sions of ener­gy, secret com­mu­nion with birds, oth­er­world­ly visions—all these things are part of Tes­la, and they're all in the opera, real­ized through Jon's beau­ti­ful music.
After the tracks are edit­ed, a record­ing of Vio­let Fire should be available—soon, I hope. I'll let you know.