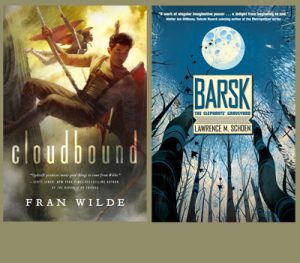 I'm excited to be part of All But True's next author event, "Other Times, Other Worlds," with two award-winning science fiction authors: Fran Wilde and Lawrence M. Schoen. It's coming up on November 11—our second time at Mighty Writers West, and our first time focusing on speculative fiction. Here are my thoughts on the novels Fran and Lawrence will be reading from, discussing, and signing.
Lawrence M. Schoen's 2015 novel Barsk: The Elephants' Graveyard won the Cóyotl Award for excellence in anthropomorphic fiction, and it's easy to see why. It describes a far future peopled by sapient descendants of elephants and other mammals, "upraised" by humans in the distant past, with the humans now long gone. The Eleph and Fant live in exile from the rest of the interplanetary Alliance, on the rainforest planet Barsk.
What I love most about this book is how Schoen extrapolates his humanized pachyderms from our own knowledge and appreciation of this endangered species. Fant society is matriarchal, with the more nomadic males moving in and out of the settled, female-centric communities. Adhering to the legend of the elephants' graveyard, they know the time and place of their death. And they are keepers of memory and history, both for themselves and other species in the Alliance.
The Fants' ability to speak with the dead, aided by the psychoactive drug Koph, is a natural and intriguing outgrowth of their strong attunement to the past—and becomes a central element of the story. Barsk builds through widening tiers of revelations, and by the end you'll learn why and how the Fant became the outcasts of the Alliance, reviled by the furry dogs, otters, bears and other sapient animals in spite of their crucial role as the sole suppliers of Koph.
Cloudbound is the second book in Fran Wilde's Bone Universe Series. Updraft, the first book, won Wilde both the Compton Crook award for best first science fiction/fantasy novel and the Andre Norton Award for outstanding young adult science fiction/fantasy. Updraft introduced a world where people fly on silk wings between living bone towers, and followed Kirit Densira's discovery of her destiny as a Singer, along with the machinations of the secretive Spire.
Cloudbound picks up after the Spire's power has been broken, and shifts to the experience of Kirit's tower-mate Nat. With Kirit and a small band of outcasts, he flees the conflict-ridden City, traveling down into the clouds in search of long-hidden secrets. This book has a more communal dynamic than the first, and delivers the kind of deepening complexity that's required of a second installment. Nat's understanding of leadership is tested against unexpected betrayals and misuse of power by those around him. Cloudbound is as gripping as the first book, and as breathtaking in its development of this vivid and dangerous world.
All But True, a free author reading series hosted by the Working Writers Group
Other Times, Other Worlds—an evening of speculative fiction, with Lawrence M. Schoen and Fran Wilde
Friday, November 11 at Mighty Writers West
3861 Lancaster Avenue, Philadelphia, PA 19104 215-244-4005