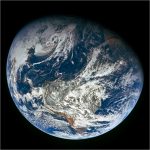 In this month of Earth Day and march­ing for sci­ence and cli­mate, I'm think­ing about Gaia.
A hash­tag popped up on Twit­ter last week: #ifon­lytheearth­could­speak. Yes! That's a good prompt to con­tem­plate right now. The hash­tag elicit­ed a range of respons­es from fun­ny and snarky to thought­ful and earnest. Some tweet­ers sug­gest­ed that the earth is speak­ing, but we're not lis­ten­ing. Would that be Gaia? The envi­ron­men­tal sci­en­tist James Love­lock first for­mu­lat­ed the Gaia hypoth­e­sis in the 1970s, propos­ing that the Earth could be seen as one vast liv­ing and self-reg­u­lat­ing sys­tem, and nam­ing it for Gaia, the pri­mor­dial Greek Earth god­dess. The idea has been borne out since then, but its pop­u­lar­i­ty may owe a lot to Lovelock's nam­ing it for the Greek Moth­er Earth, thus con­nect­ing it in our minds to the much ear­li­er and long-lived human sense of the earth as a liv­ing force.
In the last week, the earth's atmos­phere reached an omi­nous new mile­stone: atmos­pher­ic car­bon diox­ide lev­els broke past 410 parts per mil­lion, after hit­ting 400 parts per mil­lion in 2013. The last time atmos­pher­ic car­bon con­cen­tra­tions were this high was in the Mid­dle Pliocene, 3.6 mil­lion years ago. Our con­tin­u­ing to pump car­bon and oth­er green­house gas­es into the atmos­phere, com­bined with the unknown effects of cli­mate feed­back, are cause for alarm. For those of us who don't deny the facts, it's a scary time. I'll be at the People's Cli­mate March in Wash­ing­ton D.C. in a few days, one of the hun­dreds of thou­sands of peo­ple need­ing to bear wit­ness to the urgency of this moment.
But are facts enough to ral­ly peo­ple to action? You can't see car­bon con­cen­tra­tions, and even though the earth is now expe­ri­enc­ing changes that are much faster than the nor­mal geo­log­i­cal time scale, these changes are often too slow, too big, or too abstract for us to eas­i­ly take in. As author Kim Stan­ley Robin­son has said, "Fic­tion can tell us how new sit­u­a­tions will feel, and also, what things mean." Robinson's new nov­el, New York 2140, set in a par­tial­ly sub­merged future New York, is one of sev­er­al just-pub­lished works of cli­mate fic­tion (cli-fi), the emerg­ing genre that invites us to pic­ture the human con­se­quences of cli­mate change. Robin­son offers a vision of peo­ple mud­dling along and mak­ing their lives in the Venice-like canals of New York, both cop­ing with the dis­as­ters that have occurred and aware there may be worse ahead.
But where is Gaia in this future? If Earth can be seen as a liv­ing thing, couldn't we also ben­e­fit from try­ing to take its perspective—as dif­fer­ent from ours as it may be? Sci­ence fic­tion has gone there already. Appar­ent­ly inspired by the Gaia hypoth­e­sis, Isaac Asi­mov includ­ed a new­ly dis­cov­ered, sen­tient plan­et named Gaia in his 1982 nov­el Foundation's Edge. And Piers Antho­ny made "Gaea" a main character—an arche­type of the Earth, embod­ied in a mortal—in Becom­ing a Green Moth­er (1988), part of his Incar­na­tions of Immor­tal­i­ty series.
The Book of Joan, an ambi­tious nov­el by Lidia Yuk­nav­itch, just out this month, offers a char­ac­ter who is empath­i­cal­ly con­nect­ed with the Earth. Liv­ing only a few decades into the future, the vision­ary child-woman Joan of Dirt leads a rebel­lion among the sur­vivors of an envi­ron­men­tal­ly rav­aged earth who are now liv­ing on an orbit­ing space-sta­tion sanc­tu­ary ruled by a bil­lion­aire dic­ta­tor. This Joan of Arc for a night­mare future can man­i­fest vol­canic eruptions—her sym­bio­sis with the plan­et allows it a form of expres­sion that can't be ignored. It's a risky nov­el, also tak­ing on issues of gen­der, sex and race, and it's on my to-be-read list.
These and oth­er cli-fi nov­els do a great ser­vice by bring­ing the human con­se­quences of cli­mate change into vivid focus, at a human scale we can reck­on with. If they tend to be dystopi­an, that is the kind of future that seems to be star­ing us in the face, giv­en the forces we have already set in motion.
The Earth is speak­ing to us now, in her own lan­guage, not just through beau­ti­ful sun­sets, but through ris­ing sea lev­els, droughts, and strange weath­er pat­terns. Of course we need to be able to imag­ine the human costs of cli­mate change. That's how we think, and it is the most promis­ing way toward changes in pol­i­cy. But I also feel the need to see things from Gaia's point of view—even if it means fac­ing erup­tions of trau­mat­ic scale and strength. What may be dystopi­an for us, may just be a cloudy after­noon for our long-lived plan­et. We des­per­ate­ly need to de-objec­ti­fy the earth, and to try to reen­gage in some­thing more like an "I–Thou" rela­tion­ship with Gaia—not of equals, but in respect, and awe and won­der. I hope more writ­ers will take up the chal­lenge of imag­in­ing what she is say­ing, and might be say­ing in the future.