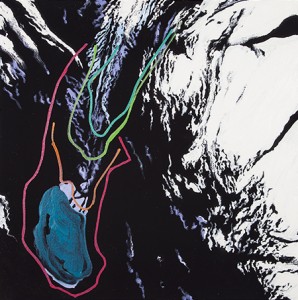 My con­ver­sa­tion with cli­mate artist Diane Burko has just been post­ed on Cre­ative Dis­tur­bance, a pod­cast­ing plat­form for dia­logue among artists and sci­en­tists on sus­tain­abil­i­ty and envi­ron­men­tal issues. We're hap­py to join oth­ers on their Art & Earth Sci­ences chan­nel, shin­ing dif­fer­ent lights on urgent issues relat­ing to cli­mate change—especially this week, as the inter­na­tion­al com­mu­ni­ty gath­ers in Paris with the goal of reach­ing a uni­ver­sal agree­ment to slow glob­al warm­ing.
Here's the link:
http://creativedisturbance.org/podcast/climate-artist-diane-burko-with-writer-miriam-seidel-eng/
In the pod­cast, we talk about how Diane made the tran­si­tion from painter of large-scale land­scapes to an artist/advocate who has trav­eled to the Arc­tic and Antarc­tic, wit­ness­ing and doc­u­ment­ing the loss of glac­i­ers; and how she tries to con­vey the scale of cli­mate change through her paint­ings and pho­tographs, mak­ing her work a kind of bridge between sci­en­tists and the rest of us. In this paint­ing, for instance, she has over­laid a sky-view image of the Eagle Glac­i­er in Alas­ka with reces­sion lines, bright­ly mark­ing the retreat of the ice over 30-some years.
For more about Diane and her work: