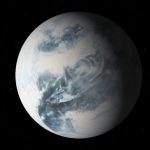 When I saw the first Star Wars movie, A New Hope, I couldn't get past that moment when Princess Leia sees her home plan­et, Alder­aan, blown up by the Empire. We didn't even get to see her reac­tion shot; the first response to this cal­cu­lat­ed destruc­tion is voiced by Obi Wan Keno­bi, say­ing he feels a "great dis­tur­bance in the force." It's hard to know how Leia feels about this dev­as­tat­ing event, since she moves right into war­rior mode and doesn't men­tion it again.
Star Wars is great pop­u­lar enter­tain­ment, of course, and it isn't the only sci-fi sto­ry to fea­ture an explod­ing plan­et, or one that's destroyed by nuclear or envi­ron­men­tal dis­as­ter, from Superman's home plan­et of Kryp­ton to the casu­al destruc­tion of Earth in The Hitchhiker's Guide to the Galaxy.
At anoth­er end of the spec­trum, there's a nov­el by Doris Less­ing that has stuck with me since I read it, for its unre­lent­ing deep dive into the feel­ings of a com­mu­ni­ty as it expe­ri­ences the death of its world. The Mak­ing of the Rep­re­sen­ta­tive from Plan­et Eight (1982) is the fourth in Lessing's five-nov­el series of sci­ence fic­tion nov­els, Cano­pus in Argos. It's a quick but intense read, told in a voice that evokes folk tales or Scrip­ture. (Less­ing lat­er adapt­ed the nov­el as an opera with music by Philip Glass.)
We're led through the sto­ry by Doeg, who lives on the peace­ful, pros­per­ous and tem­per­ate Plan­et Eight, part of the Cano­pus sys­tem. A mys­te­ri­ous cos­mic realign­ment caus­es the glob­al cli­mate to shift, with bliz­zards caus­ing a buildup of snow and ice—a swift­ly cat­a­clysmic, plan­et-wide Ice Age. Doeg, whose voca­tion is Mem­o­ry Mak­er and Keep­er of Records, reports con­sci­en­tious­ly on his own and oth­ers' emo­tion­al avalanche as every­thing about their pre­vi­ous life slips away.
In one poignant moment, the lead­ers stage a cer­e­mo­ny to help peo­ple accept part of their new real­i­ty: they now have to fish in their sacred lake for sus­te­nance, a prac­tice that has always been taboo. Stand­ing on the shore, the com­mu­ni­ty watch­es as a few peo­ple row out to demon­strate how it's done. The sight of this is too much: "A groan or cry came out from the crowds, and this sound, which had been pressed out of us, fright­ened us all."
In the end, there's no escape—all life on the plan­et is extin­guished. Doeg and a few oth­ers only sur­vive in dis­em­bod­ied form, as a col­lec­tive "rep­re­sen­ta­tive" to the Canopic sys­tem. Their trans­for­ma­tion reflects Lessing's study of Sufism, the mys­ti­cal branch of Islam. Through that lens, the sto­ry can be seen as an alle­go­ry of the soul leav­ing behind the phys­i­cal body (the "world" in which the indi­vid­ual lives). Less­ing also point­ed to anoth­er source for the sto­ry, in her life­long fas­ci­na­tion with the doomed British Antarc­tic expe­di­tion led by Robert Scott from 1910–1913.
Now, sev­er­al decades after it first appeared, and as we move fur­ther into our glob­al cli­mate cri­sis, it's hard not to read the nov­el as a stark and cogent alle­go­ry of cli­mate change—an ear­ly entrant in the grow­ing genre of cli­mate fic­tion, or Cli-Fi, as it's been called by jour­nal­ist Dan Bloom and oth­ers. Less­ing didn't talk about this aspect of the work, although she lat­er revis­it­ed themes of the col­lapse of civ­i­liza­tions and ecolo­gies in her two "Mara and Dann" nov­els, set in a far-future Africa.
It's hard to wrap your mind around such a mas­sive phe­nom­e­non, espe­cial­ly as it looms over your own life, let alone the lives of your descen­dants. It is much eas­i­er to deny some­thing like cli­mate change while evi­dence of it builds around you, than to attempt to engage with the scope of its real­i­ty. But in the moment we find our­selves in now, we also need to learn to stretch our capac­i­ty to feel, and express, the worst that could hap­pen, like the peo­ple beside the lake on Plan­et Eight.