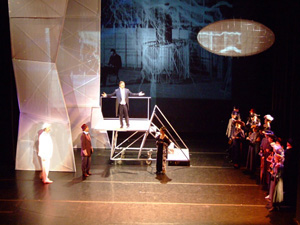 Miri­am con­ceived and wrote the libret­to for this mul­ti­me­dia opera about the vision­ary inven­tor Niko­la Tes­la, with score by Jon Gib­son. Vio­let Fire incor­po­rates dance and a pro­ject­ed image through-line along with words and music to pro­vide an immer­sive expe­ri­ence of this extra­or­di­nary per­son­al­i­ty.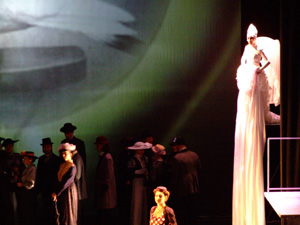 After a first per­for­mance at Tem­ple Uni­ver­si­ty in Philadel­phia, Vio­let Fire had a full world pre­miere at the Nation­al The­ater in Bel­grade, Ser­bia, as part of Tesla's 150th anniver­sary cel­e­bra­tion there. Lat­er in 2006, it was per­formed at Brook­lyn Acad­e­my of Music's Next Wave Fes­ti­val in New York.
View excerpts from Vio­let Fire:
Miri­am was com­mis­sioned to write the libret­to for this opera, based on an episode from Ovid's Meta­mor­phoses, relat­ed by leg­end to the ancient city of Sardis in Turkey. Com­pos­er Kam­ran Ince's score incor­po­rates Turk­ish musi­cal tra­di­tions. The opera's devel­op­ment includ­ed sev­er­al work­shops and a con­cert per­for­mance in New York, pro­duced by Amer­i­can Opera Projects. Judg­ment of Midas pre­miered in Mil­wau­kee, WI in 2013, pro­duced by Present Music with the Mil­wau­kee Opera The­atre.
The Big Pic­ture
Dra­mat­ic mono­logue per­formed as part of Inter­Act Theater's 2000 Voic­es Fes­ti­val in Philadel­phia.
Inter­fer­ence
Radio play with sound by John J.H. Phillips, com­mis­sioned and aired by New Amer­i­can Radio.