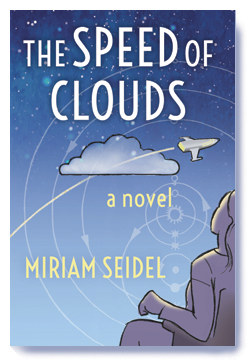 A deep dive into fandom at the turn of the new millennium, and the poignant story of one fan's efforts to find a new way for her to live life on Earth.
About the Book
Mindy Vogel may need a wheel­chair to get around, and she may still be liv­ing with her moth­er, but she trav­els eas­i­ly between star sys­tems as Sky­Log offi­cer Kat Wan­der­er, while car­ry­ing on a romance with a strange­ly com­pelling cyborg. And she runs a kick­ass fanzine. But after a split with her own fan club, Mindy starts to lose her bear­ings; then things at home start to go south. Faced with so many dis­rup­tions, Mindy must re-imag­ine her life. Set at the moment when fan­dom went dig­i­tal, this expan­sive nov­el finds room for Buck­min­ster Fuller, the Ghost Dance of the Lako­ta, and cos­mic-themed instal­la­tion art along­side the fan­fic­tion, Cons and cos­play of fan cul­ture.
Endorse­ments
Blends qui­et and deeply human moments with the world-shak­ing con­se­quences of epic sci­ence fic­tion, effort­less­ly weav­ing them togeth­er.
A heart­break­ing yet uplift­ing explo­ration of fan­dom, of uni­ver­sal truths revealed by imag­i­nary uni­vers­es, and of the aston­ish­ing pow­er of human inven­tion and rein­ven­tion.
The nov­el is spot-on about how under­stand­ing the dynam­ics of a show like Sky­Log offers a way to under­stand the even-more-elu­sive dynam­ics of adult life.
Dis­clo­sure of Mate­r­i­al Con­nec­tion: Some of the links in the page above are "affil­i­ate links." This means if you click on the link and pur­chase the item, I will receive an affil­i­ate com­mis­sion. I am dis­clos­ing this in accor­dance with the Fed­er­al Trade Commission's
16

CFR

, Part 255
: "Guides Con­cern­ing the Use of Endorse­ments and Tes­ti­mo­ni­als in Adver­tis­ing."