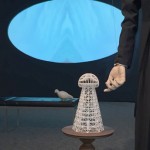 Jeanne Jaffe's ambitious Elegy for Tesla is a high-tech, dreamlike and heartfelt meditation on Nikola Tesla, the legendary scientist and inventor. Jaffe's multimedia installation fills the Rowan University Art Gallery with videos and sound, 3-D printed models of his iconic inventions, and animatronic, motion-activated figures of Tesla that move and, in some cases speak.
Tesla stands as an avatar of massive creativity, with his hundreds of patents, and basic breakthroughs in alternating current, radio, robotics, and even computer circuitry. Jaffe pays homage to his achievements, while embedding them in the medium of a life that had strangely mythic elements. She's particularly sensitive to the poignancy of the older Tesla, the eccentric loner who fed and cared for pigeons, whose limitless imagination had run up against the limits of the public's reception of his work.
This aspect of Tesla is part of what drew me to work with composer Jon Gibson on Violet Fire, an opera that tried to capture the inner life of Tesla in all its strangeness through music, movement and video. So I was delighted to be asked to write the catalogue essay for this exhibit. One part of the Tesla mythos is the white pigeon he befriended, and who triggered in him a vision of blinding light. Jaffe, who has cared for birds herself, surrounds Tesla with a flock of tenderly modeled pigeons; for me, they can be seen as carriers of his ongoing inspiration, and markers of his intense, intuitive connection with the natural world.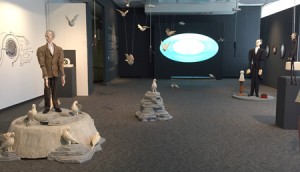 But Tesla, in the form of his motion-activated doppelgangers, steals this show. Curator Mary Salvante coordinated an NEA-funded collaboration between Jaffe and students and faculty in Rowan's Engineering Department to create the systems that animate her sculptures. They stand, and move, in a perfect salute to Tesla as "magician" of wireless electricity.
I'll be at the reception on Thursday – if you can't make it, the show will be up through January 30.
Elegy for Tesla, an installation by Jeanne Jaffe
Rowan University Art Gallery/West, Glassboro, NJ, through January 30, 2016
Reception Thursday, October 8, 5-8 pm, starting with artist presentation and panel discussion at 5 pm.