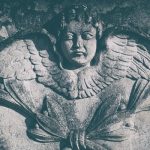 As I read George Saun­ders' dar­ing first nov­el Lin­coln in the Bar­do recent­ly, I was struck by its strange­ly close par­al­lels with anoth­er mem­o­rable and equal­ly risk-tak­ing debut nov­el, Chris Adrian's Gob's Grief (2000). Both nov­els use the Civ­il War as an entry point into crazed and orig­i­nal med­i­ta­tions on the real­i­ty of death.
In Lin­coln in the Bar­do, Saun­ders reimag­ines the Bud­dhist con­cept of the Bar­do, a thresh­old state of the soul that is thought to last a few days after death. His Amer­i­can Bar­do is a ceme­tery in Wash­ing­ton, D.C., filled with a mot­ley group of dead folks too short-sight­ed to real­ize they're dead. At the heart of the book is a new arrival, eleven-year-old Willie Lin­coln, who's suc­cumbed to typhoid fever, and his griev­ing father, the Pres­i­dent, who is a year into the blood­i­est war of the country's his­to­ry. His­to­ry has left the tan­ta­liz­ing sug­ges­tion that Lin­coln vis­it­ed Willie's crypt sev­er­al times after the boy's funer­al.
Gob's Grief takes place dur­ing and after the Civ­il War. The sto­ry repur­pos­es such real fig­ures as Walt Whit­man, who vol­un­teered as a nurse to injured sol­diers dur­ing the war, and the remark­able Vic­to­ria Wood­hull, a fem­i­nist, a medi­um, and the first female can­di­date for pres­i­dent, in 1872. The emo­tion­al crux of this sto­ry is the rela­tion­ship between Woodhull's fic­tion­al twin sons, Gob and Tomo. Tomo runs off to be a bugler with the Union Army at the age of eleven, and is soon killed in bat­tle.
Gob is sick­ened by his mother's insis­tence that his broth­er is alive and well in the Sum­mer­land, the Spir­i­tu­al­ist equiv­a­lent of Heav­en. Years lat­er, a grown-up Gob builds a mas­sive, Steam­punk-like engine meant to bring back to life not only Tomo, but all the sol­diers who died in the war. The engine com­bines "glass tubes and iron gears… bun­dles of cop­per wire," human bones, and an array of glass neg­a­tives of fall­en sol­diers, float­ing above a set of ceme­tery gates.
Both books are wild­ly non-for­mu­la­ic and genre-bust­ing. Lin­coln in the Bar­do is told in a mul­ti-voiced cho­rus, shift­ing from the dead ceme­tery-dwellers to the living—the ceme­tery guard and the President—along with excerpt­ed his­tor­i­cal descrip­tions of Willie's ill­ness and death. Gob's Grief leaps around in time and inside many points of view. But it also alter­nates between nat­u­ral­is­tic depic­tions of events like the bat­tle of Chicka­mau­ga, and oth­er­world­ly hap­pen­ings and char­ac­ters includ­ing the mem­o­rably creepy child Pick­ie Beech­er, born out of Gob's infer­nal machine. Angels appear in both books, hec­tor­ing the liv­ing and the dead.
Both nov­els are heat­ed into over­drive by the ten­sion between denial and accep­tance of death, two land­marks on the con­tin­u­um of grief. The ghosts sur­round­ing Willie Lin­coln suf­fer from major cog­ni­tive dis­so­nance as they strug­gle to explain their sit­u­a­tion, cling­ing to sad euphemisms: "sick-box" for cof­fin, and "stone home" for their tombs. Their lib­er­a­tion, and Willie's, hinges on rec­og­niz­ing the real­i­ty of their deaths in this false stage-set they've cre­at­ed. An unlike­ly com­mu­nion with the dead helps Willie's griev­ing father come through a sim­i­lar emo­tion­al pas­sage.
Gob's Grief is infused with the crazi­ness of grief. Sev­er­al main char­ac­ters, includ­ing Walt Whit­man, are each haunt­ed by a broth­er or loved one lost in the war. Gob's death-defy­ing engine some­how feels like the believ­able response of some­one who's ready to change the rules of real­i­ty to bring back their loved one. Adrian's lat­er nov­els, The Children's Hos­pi­tal and The Great Night, show a sim­i­lar will­ing­ness to dive head­long into the deep­est waters where death and life, fan­ta­sy and real­i­ty mix.
The idea of the Bar­do came to the West from the Tibetan Book of the Dead, the 14th-cen­tu­ry Tibetan Bud­dhist text writ­ten as a guide for the new­ly dead, to help them move through the illu­sions of the Bar­do toward clar­i­ty and rebirth. In fact, Bar­do can refer to any tran­si­tion­al state, even our wak­ing expe­ri­ence. Is there some­thing dis­tinct­ly Amer­i­can in the intran­si­gence of Saun­ders' ghosts, and Gob's obses­sive quest to undo his brother's death? Their stub­born­ness may reflect our cul­tur­al prej­u­dice toward hap­pi­ness, toward hold­ing on to a more pleas­ant ver­sion of things, whether it's one that exist­ed in the past, or some promised future. In what­ev­er Bar­do we find our­selves, only doing the hard work of acknowl­edg­ing what we've lost can lib­er­ate us to move ahead.