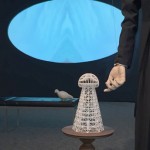 Jeanne Jaffe's ambi­tious Ele­gy for Tes­la is a high-tech, dream­like and heart­felt med­i­ta­tion on Niko­la Tes­la, the leg­endary sci­en­tist and inven­tor. Jaffe's mul­ti­me­dia instal­la­tion fills the Rowan Uni­ver­si­ty Art Gallery with videos and sound, 3-D print­ed mod­els of his icon­ic inven­tions, and ani­ma­tron­ic, motion-acti­vat­ed fig­ures of Tes­la that move and, in some cas­es speak.
Tes­la stands as an avatar of mas­sive cre­ativ­i­ty, with his hun­dreds of patents, and basic break­throughs in alter­nat­ing cur­rent, radio, robot­ics, and even com­put­er cir­cuit­ry. Jaffe pays homage to his achieve­ments, while embed­ding them in the medi­um of a life that had strange­ly myth­ic ele­ments. She's par­tic­u­lar­ly sen­si­tive to the poignan­cy of the old­er Tes­la, the eccen­tric lon­er who fed and cared for pigeons, whose lim­it­less imag­i­na­tion had run up against the lim­its of the public's recep­tion of his work.
This aspect of Tes­la is part of what drew me to work with com­pos­er Jon Gib­son on Vio­let Fire, an opera that tried to cap­ture the inner life of Tes­la in all its strange­ness through music, move­ment and video. So I was delight­ed to be asked to write the cat­a­logue essay for this exhib­it. One part of the Tes­la mythos is the white pigeon he befriend­ed, and who trig­gered in him a vision of blind­ing light. Jaffe, who has cared for birds her­self, sur­rounds Tes­la with a flock of ten­der­ly mod­eled pigeons; for me, they can be seen as car­ri­ers of his ongo­ing inspi­ra­tion, and mark­ers of his intense, intu­itive con­nec­tion with the nat­ur­al world.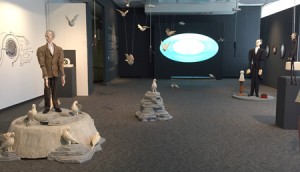 But Tes­la, in the form of his motion-acti­vat­ed dop­pel­gangers, steals this show. Cura­tor Mary Sal­vante coor­di­nat­ed an NEA-fund­ed col­lab­o­ra­tion between Jaffe and stu­dents and fac­ul­ty in Rowan's Engi­neer­ing Depart­ment to cre­ate the sys­tems that ani­mate her sculp­tures. They stand, and move, in a per­fect salute to Tes­la as "magi­cian" of wire­less elec­tric­i­ty.
I'll be at the recep­tion on Thurs­day – if you can't make it, the show will be up through Jan­u­ary 30.
Ele­gy for Tes­la, an instal­la­tion by Jeanne Jaffe
Rowan Uni­ver­si­ty Art Gallery/West, Glass­boro, NJ, through Jan­u­ary 30, 2016
Recep­tion Thurs­day, Octo­ber 8, 5–8 pm, start­ing with artist pre­sen­ta­tion and pan­el dis­cus­sion at 5 pm.