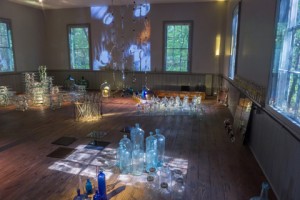 Car­olyn Healy and John Phillips have done it again: they've cre­at­ed an art instal­la­tion piece that both trans­forms the space it's housed in, and crys­tal­lizes some essence of the place.
This time they did it inside a one-room school­house on the grounds of WheatonArts in Mil­lville, New Jer­sey, a nation­al­ly known cen­ter for glass art. Their piece is part of Ema­na­tions: Art + Process, an ambi­tious exhib­it bring­ing in eleven invit­ed artists—some of them expe­ri­enced glass artists, and oth­ers, like Phillips and Healy, who would encounter Wheaton's impres­sive glass­mak­ing stu­dio for the first time.
The inside of the school­house has become a kind of snow globe, doc­u­ment­ing the his­to­ry of glass­mak­ing at Wheaton, once the epi­cen­ter of the Amer­i­can glass indus­try. The open room is filled with glass objects that Healy unearthed from the back rooms and stor­age bins of WheatonArts, from big bell jars and old phar­ma­cy bot­tles to bear-shaped hon­ey bot­tles. Light-fil­ter­ing film on the win­dows, along with a few spot­lights, makes for a sin­gu­lar atmos­phere filled with odd sparkles and flash­es, and reflec­tions that seem to hov­er in midair. Sug­ges­tive videos on the wall and sound ele­ments by Phillips, seem­ing­ly explor­ing the inner qual­i­ties of glass, some­how com­plete the trans­for­ma­tion of the space into "a semi-trans­par­ent ves­sel itself, a cru­cible for con­tem­pla­tion," as I wrote in the essay for a cat­a­log to accom­pa­ny the exhib­it.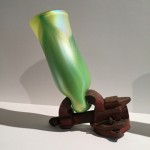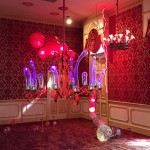 Most of the Ema­na­tions exhib­it can be seen in the Muse­um of Amer­i­can Glass, and includes such stand­outs as Judy Pfaff's exu­ber­ant and gaudy fan­ta­sia on a theme of chan­de­liers; Don­ald Lipski's mis­chief-mak­ing inter­ven­tions into love­ly glass objects; Vir­gil Marti's dizzy­ing faux-col­lec­tion of exquis­ite­ly hued vas­es; and the sur­re­al "barn­yard ani­mal" forms of Paula Hayes.
Dis­cov­er­ing this adven­tur­ous show at Wheaton, set in a shady pine grove on the sandy soil that made the glass indus­try pos­si­ble, is like find­ing the sparkling innards of a geode. If you go, don't for­get to walk down the path to the lit­tle school­house with the extra­or­di­nary inte­ri­or, cour­tesy of Phillips and Healy.
EMANATIONS: ART + PROCESS Artists include Mark Dion, Paula Hayes, Car­olyn Healy and John Phillips, Don­ald Lip­s­ki, Vir­gil Mar­ti, Michael Oat­man, Judy Pfaff, Joce­lyne Prince, Rob Wynn and Mark Zir­pel
Through Jan­u­ary 4, 2016 at WheatonArts, Mil­lville NJ www.wheatonarts.org
Free admis­sion on Wheaton Wide Open Week­ends: Sep­tem­ber 11–13, Octo­ber 23–25, Novem­ber 6–8, and thru Jan­u­ary 2016