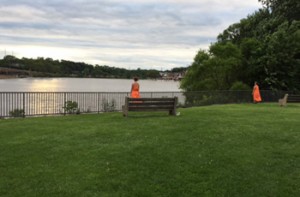 Leah Stein, a mas­ter of site-spe­cif­ic chore­og­ra­phy, is known for cre­at­ing out­door dances that work a kind of alche­my on the places where they hap­pen. She pro­ceeds inclu­sive­ly, allow­ing her dancers, the audi­ence, the place itself, and ran­dom ele­ments includ­ing passers­by and even the weath­er, to come togeth­er into a new kind of com­mu­nal zone.
In TURBINE, the col­lab­o­ra­tive piece cre­at­ed with the Mendelssohn Club to mark the 200th anniver­sary of Philadelphia's his­toric Fair­mount Water Work's com­plex, we in the audi­ence fol­lowed the fif­teen dancers and sev­er­al dozen singers as they moved through the out­door site, and some­times sur­round­ed us. Immer­sion was a fit­ting strat­e­gy for this place, once an ear­ly-indus­tri­al mar­vel that sup­plied clean water to the city, and now an eeri­ly beau­ti­ful col­lec­tion of open Greek-Revival struc­tures, cliffs, trees and lawn set between the Philadel­phia Muse­um and the Schuylkill Riv­er.
Begin­ning in a grove of tr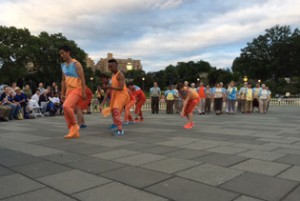 ees, the dancers and singers appeared with­out fan­fare among the audi­ence, offer­ing sim­ple arc­ing ges­tures and short, over­lap­ping musi­cal phras­es. We fol­lowed them as they moved across the grass, entered a river­side gaze­bo, and then made their way along a short pal­isade to a wide plaza. The dancers, in bright orange, and the singers in blue-green vests or scarves, seemed to be mak­ing a new map of the place while mov­ing across the sur­face it described.
Writ­ers includ­ing Charles Dick­ens and Mark Twain vis­it­ed the renowned Water Works in their time, and com­pos­er Byron Au Yong culled haiku-like frag­ments from their descrip­tions to cre­ate flex­i­ble son­ic mod­ules. Au Yong, who has made site-based work before, allowed the singers some lib­er­ty in the tim­ing of their own phras­es, which inter­wove, some­times fad­ing in the air, some­times res­onat­ing like depth charges. For the choir mem­bers of the Mendelssohn Club, who have worked with Stein before, the piece offered a unique­ly chal­leng­ing adven­ture, and we felt their brav­ery as they bal­anced walk­ing and expres­sive ges­tures with out­door singing. Mean­while, the dancers held the space like sentries—moving, or often still; offered rit­u­als of pour­ing water; and danced, all with nev­er-flag­ging con­cen­tra­tion.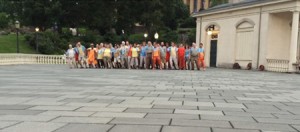 As we attend­ed to what was hap­pen­ing, the site came to life around the per­form­ers. Stand­ing in the ear­ly evening light, I was struck by the uncom­mon grace­ful­ness of this place, and simul­ta­ne­ous­ly felt it as it is right now: a place ringed by parked cars and traf­fic noise, part of a liv­ing city.
Expe­ri­enc­ing a work by Leah Stein, I've found, has after­ef­fects. Some good art does this—by desta­bi­liz­ing our per­cep­tion, it makes us see dif­fer­ent­ly. It may be part­ly the shock of dis­place­ment into an unex­pect­ed venue that inten­si­fies our atten­tion, push­ing us into the present moment (like com­ing on a flash-mob per­for­mance, which may be a new folk form of site-spe­cif­ic dance). But her out­door events, although large-scale, are anti-spec­ta­cles, induc­ing a sense of won­der through an almost hyp­not­ic sense of height­ened recep­tiv­i­ty. After the last min­gling of per­form­ers and audi­ence on the plaza, we left trans­formed, released into the sur­round­ings and sud­den­ly see­ing the col­ors of dusk as more sat­u­rat­ed, the sounds more crisp, and every move­ment as a sig­nal.
TURBINE was per­formed on June 28, 2015 at the Fair­mount Water Works.